What attracts me about Christian Lacroix (see how to pronounce Christian Lacroix) collections is the colourful fashion design. I love a life full of colours. I found this picture of Tilda Swinton wearing a Christian Lacroix dress during the Cesar Ceremony Awards 2009. This is called "rainbow dress" apparently, slightly striking and eye catching. Don't you think so?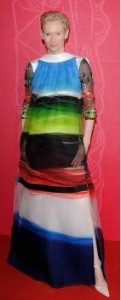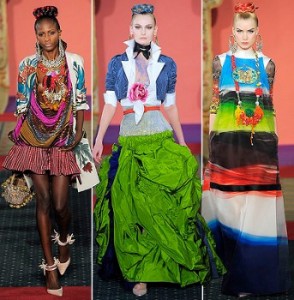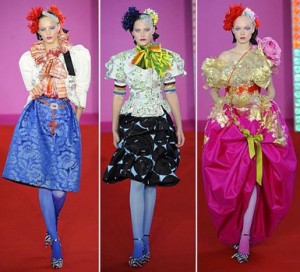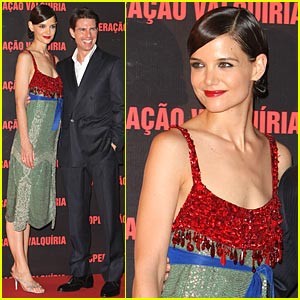 Unfortunately, Christian Lacroix filed for bankruptcy because of the economic downturn recently. This is his last fashion show haute couture 2009-2010. During the last show, there was a banner written "Christian Lacroix forever" and the audience stood up to honour him at the end of the show. The financial was so tight for Christian Lacroix to make this fashion show happen, however most of it was sponsored or given free. The catwalk stage was given free of charge, the makeup artists and hairdressers had to cut their fees, even the backstage buffet cafe was sponsored for the foods and drinks. Apparently, only the 12 models were paid.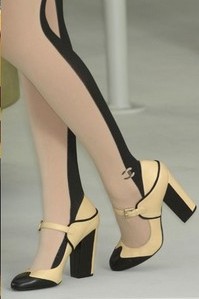 Look at Christian Lacroix profile here of how he became so successful in his career for his dramatic and glamorous fashion design. His collections loved by many celebrities such as Katie Holmes, Catherine Zeta Jones, Ivana Trump, Uma Thurman, Julianne Moore. I fancy one of his collection which is wore by Katie Holmes in the picture with Tom Cruise. I also adore this picture of a pair of  shoes he designed.
I wonder if the legendary Christian Lacroix is going to come back to the fashion arena again or is he gone forever? Let's wait and see O.K!