One of the fashions that struck me most about Jean Paul Gaultier (hear how to pronounce his name)  fashion designer was the 'Cone Bra' outfit, which was designed for Madonna for her Blonde Ambition tour in 1990. After that, there was a Hong Kong Comedy Movie, starring Maggie Chung who wore that Cone Bra for her funny role as well.
You can see the Jean Paul Gaultier Haute Couture Summer 2008 for his collection in here. This time a mermaid is wearing the cone bra.
I was wandering if I was wearing the Cone Bra on the street, will people stare at me?  I don't mind if I would be able to wear it on a fashion show but not in the high street!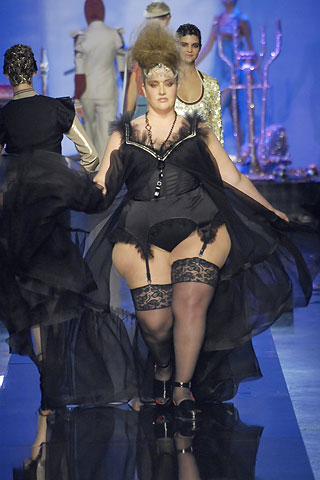 Hello magazine has a great Jean Paul Gaultier profile. He was so obsessed with fashion design in the early days. I would say if somebody is obsessed and persistent in their goal, usually they will be successful, don't you think so?
Jean Paul Gaultier said that beauty can be universal. The model's name is "Velvet" from New York, USA. Some bloggers say Jean Paul Gaultier did this as a reaction, to make a mockery of the ban on super-skinny models. Many have commented that if he really wanted to show beauty is universal, he should have used some average sized women.
Whatever the truth is, there are plenty of opinions! So what do you think? Was Gaultier telling women "you're all beautiful, no matter what size"? Or was he saying "I can't use skinny models? Well, cop this!".
I'd love to know what you think!