November 19th, 2012 | by Sean |
What do you do when you can't communicate with a web-based organisation using their own 'Contact Us' method? It's frustrating, so I'm going to copy this here. I've just topped up my prepaid mobile phone using a debit card on Vodafone's website. I got a confirmation text saying
Thank you for your order.TopUp Amount:£10.You bought this on …
It's not easy to read with that Numeric character reference in there – it should say
Thank you for your order.TopUp Amount:£10.You bought this on …
In a helpful mood, I thought I'd use Vodafone's email contact form to let them know they are sending mangled texts. I filled in the form (including the surprisingly large number of compulsory personal detail fields) clicked the 'Next' button and got this: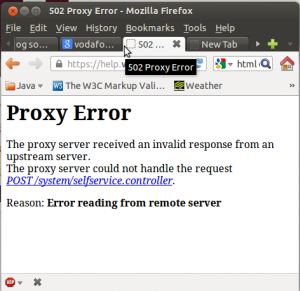 Besides pointing out that not being able to communicate with a communications company has in the past convinced me to change telecom provider, that's all I have to say.
Update: I got an email confirmation 20 minutes later that they have received the contact form.