Lolyco is giving away some free gifts. There will be random free gifts for every order. Most of the free gifts are from skin care, personal care or handmade crafts. Some are totally free for every order but some of it must buy above certain amount of money. Follow Lolyco's Twitter Feed to get the updating.
If you buy a specific brand, usually free gift will be the same brand. If the same brand free gift no longer available then Lolyco will give someting different from the website.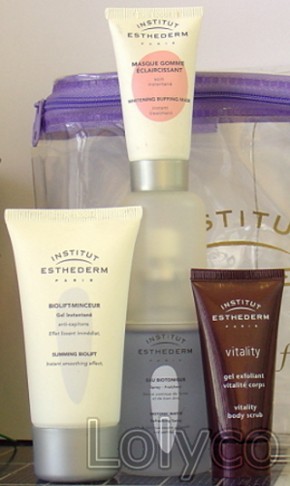 The first free gift will be Esthederm Travel Body Kit. If you buy above RM500.00 sales amount, you can get this free gift. First come first serve basis, there are only a few left. Our system will let us know who is entitled to get this free gift. While stocks last. If below RM500.00 then there will be other free gift.
A convenient selection of Institut Esthederm products (Esthederm Travel Body Kit) in its own carrying case. The kit comprises:
Biotonic Water 50ml spray
A continuing source of health and well-being.
Vitality Body Scrub 15ml
We have Vitality Body Scrub in a larger tube.
Whitening Buffing Mask 15ml
For clearer, softer skin.
Slimming Biolift Cream 50ml
Apply daily to treat skin imperfections, for smoother and firmer skin.