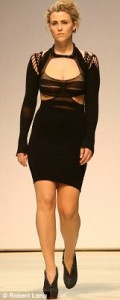 The London Fashion Week officially opened by London Mayor Boris Johnson in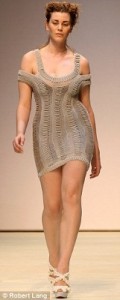 conjunction with its 25th anniversary. There are some highlights in the fashion show here. First of all,  a fashion designer called Mark Fast using normal  size (12 to 14) models wearing his creations in the showcase instead of zero size model.  Mark Fast wants women to know that not only zero size women can wear his collection, curvier women can look good in them too.
Supermodel Naomi Campbell was modeling in the show here. She has chosen three different outfits,  she only wears what she likes. The audience screamed and clapped hands when  she was on the stage. Wow, still a supermodel even though her age is nearly 40. Daniella Helayel the fashion designer said: "Naomi is the pure hurricane, she's the best walker on the catwalk, she's the sunshine after the storm.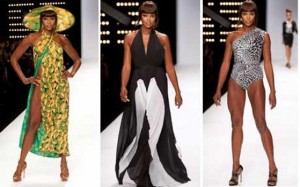 London Fashion Show focussed on bras. Louise Goldin the young designer was inspired by the Madonna rocket cone and she created ' twin peaks' in pastel gold and silver lamé, bristling with Swarovski crystals. Look at these pictures, are they very familiar? I did mention in one of my articles here about the Madonna legendary ' rocket cone bra' designed by Jean Paul Gaultier.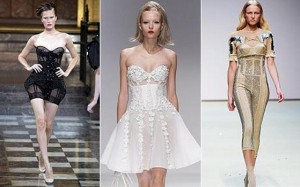 These are my favourite fashion designs in this London Fashion show. The Telegraph.co called this architectural designed which I think very unique among all the collection. What do you think after watching some highlights of the show?