There is a new ingredient called BirdNest Collagen in Nutox Oxyfusion now. According to the company, BNest Collagen contains effective cosmetic ingredients with anti-aging effects. It improves the quality of our cells by regenerating new cells. Frequent application can promote youthful smooth complexion and healthier skin.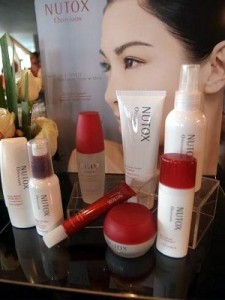 Nutox Oxyfusion has appointed a new ambassador Bernice Liu from Hong Kong as a spokesperson. Recently, she was here to promote this new range product and had an interview with The Sun.
emmagem.com has an interesting article about the Nutox BirdNest Launch and skin analysis in One Utama shopping complex in Malaysia. Besides the product launch, the fans in Malaysia were able to have a closer look at Bernice as well. My thanks to emmagem for suggesting lolyco.com as online source for Nutox products!
Confession of a Q Shopaholic has a story about buying Nutox at Guardian and recommends trying Nutox Oxyfusion Solar Block SPF45PA++. You can buy Solar Block SPF45PA++ from lolyco.com at over 12% discount from retail price.
Youtube has a Bernice Liu advertisement for Nutox Oxyfusion:-