Bio Essence came out with a new range of products called Tanaka White Series which is to keep your skin white, firm, moisturized & cool. With modern bio-engineering techniques, the Tanaka tree bark extract has deep nourishing, hydrating and cooling properties.  Is considering the most natural and effective care for the skin.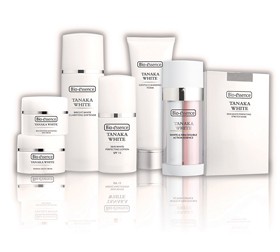 These are the steps for using  Bio Essence Tanaka White Series program:-
Gentle Cleansing Foam – Cleanse
Bright White Clarifying Softener – Softener
White & Firm Double Action Essence – White & Firm
Rejuvenating Whitening Day Cream – Rejuvenating (Day Use only)
Renewal Night Cream – Renew (Night Use only)
Skin White Perfecting Lotion SPF15 – Protect
* Skin White Perfecting Stretch Mask – Intensive Treatment (Once or twice a week)
CozyCot has Tanaka White Series details about the ingredients, the functions and the price in Singapore Dollars. You can get it in a cheaper price at Lolyco.com!
There is a review of Tanaka White Series in VIVI's DIARY.
This is the advertisement for Bio Essence Tanaka White Series of Linda Chung:-